Driver killed after HGV blown over in storms near Bathgate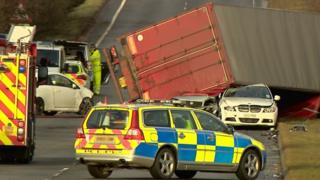 A lorry driver has died after his HGV was blown on top of two cars in West Lothian.
The incident happened at 08:10 on the A801, one mile north of the Boghead Roundabout in Bathgate.
The male driver of the truck was pronounced dead at the scene. Four other people involved in the incident had minor injuries.
The A801 remains closed southbound at the Heatherfield Roundabout, but traffic continues to flow northbound.
Police Scotland has appealed for witnesses.
The force has also advised motorists, particularly those driving high-sided vehicles, not to travel during the severe weather, and to delay any journeys until conditions improve.
A driver had to be rescued from his car in Quality Street after a tree was blown over in Davidson Main's park in Edinburgh at 08:10, landing on his vehicle.
A man in his 60s has been taken to Edinburgh Royal Infirmary after a tree fell on top of him in The Meadows in Edinburgh at the same time, near Lauriston Gardens.
Large parts of the meadows in Edinburgh were closed off for tree inspections and police warned people not to walk near tree lines.
A tree was partially blocking Redford Road in Edinburgh and another was partially blocking the A701 Edinburgh Road at Glencorse Golf Course.
The Forth Road Bridge was closed earlier after a van overturned in the wind.
Edinburgh Airport had no planes taking off between 07:30 and 08:30 due to severe weather conditions. As a result, eight departures and eight arrivals were cancelled and several flights were diverted.
Edinburgh Castle has reopened after being closed due to the high winds, while Tantallon Castle in East Lothian remains shut.
The Scott Monument in Princes Street and Nelson Monument on Calton Hill are also closed due to the weather.
The cladding has been blown off the underside of a walkway through a building at Bonnington Gait in Edinburgh.
The Scottish Fire and Rescue Service East responded to 63 incidents between 07:00 and 10:00.
Five of the incidents were road traffic collisions, two were trees on vehicles and 12 were for dangerous structures.
There have been no flooding incidents in the area.
East Coast and Virgin have opened trains for passengers to sit and wait in Waverley Station in Edinburgh. Overhead lines near Berwick are down and the bridge at Berwick is closed.
All schools in Edinburgh and East Lothian remain open. Three schools are closed in Midlothian, four schools in West Lothian and one in Fife.
Edinburgh's Christmas at East Princes Street Gardens and St Andrew Square reopened at 14:00.
The Big Wheel started at 16:00 after all the pods were reattached after they were removed for safety reasons.