Scottish independence: Labour councillor defects to SNP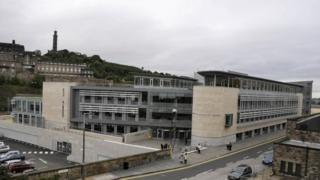 A Labour councillor has defected to the SNP and pledged to campaign for independence.
Alex Lunn, who represents the Craigentinny & Duddingston ward in Edinburgh, said a yes vote could lead to a "truly progressive" society.
The Labour leader of Edinburgh City Council said he was "bitterly disappointed" by the defection.
Mr Lunn will remain on the council which is a coalition of Labour and the SNP.
'Out the blue'
Mr Lunn told the Edinburgh Evening News: "I believe the best thing for Scotland is to take this opportunity and vote yes to independence.
"To allow myself the freedom to campaign for that, I decided to join the Scottish National Party and I'm leaving my current party, the Scottish Labour Party."
Andrew Burns, the Labour leader of Edinburgh City Council, said: "I'm bitterly disappointed that Alex has chosen to leave the party.
"Alex has never raised his apparent support for independence with myself, or any group colleagues, and thus his decision to defect has come completely out of the blue.
He added: "Obviously, this won't affect the current coalition arrangements and we'll continue to work as a capital coalition for the wider benefit of the people of Edinburgh."
'Extremely welcome'
Kenny MacAskill, the SNP MSP for Edinburgh Eastern, welcomed Mr Lunn's defection.
He said: "The news that councillor Lunn has decided to join the SNP and campaign for a yes vote next year is extremely welcome.
"It is further proof that the case for an independent Scotland is drawing in support from across Scotland, as more and more people share our vision for what we can achieve with a yes vote.
"It is also a firm demonstration that the SNP is on the side of the people when it comes to the social contract policies our citizens rely on."