Two witnesses 'saw' Portobello stairwell fire starter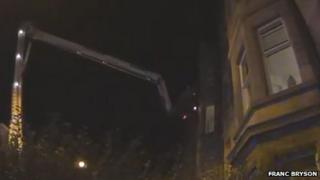 Police want to speak with two witnesses who may have seen the man who deliberately lit two of the six stair fires in Edinburgh's Portobello.
The man is white, in his late teens to early 20s with dark hair.
He was wearing dark trainers, dark jogging bottoms with a light stripe on them, and a bluish grey hooded top.
The fires happened on Sunday and Monday. There were four fires at tenements in Bath Street between 16:55 and 18:50 on Sunday.
Then 40 minutes later a fire broke out in Kings Place. Then there was a fire in Ramsay Place at 15:00 on Monday.
A female driver pulled up near flats in King's Place at about 19:30 on Sunday as a man ran out of the building.
The woman appeared to have a brief conversation with him shortly before the fire engines arrived.
On Monday at about 15:00, a fire was lit in the stairwell of Ramsay Place and the man is believed to have run out and across the street, crossing Mentone Avenue.
A woman with dark hair, wearing a brown three-quarter length leather coat is believed to have entered Ramsay Place from Portobello High Street at the same time as the man left the stair.
High-visibility patrols
On each occasion, residents had to be evacuated and some were treated for smoke inhalation. However, no one was injured.
Police are now conducting high-visibility patrols throughout Portobello and are urging anyone who can help with their enquiries to come forward.
Insp Roddy Hardy, of Police Scotland, said: "Miraculously no residents in any of the addresses affected suffered any injury. However, the consequences could have been far more serious if the fires had prevented people from escaping, or if they had spread further.
"Anyone who remembers seeing any suspicious activity in or around these streets on Sunday or Monday is asked to contact police immediately.
"Similarly, anyone who can help us identify those responsible is also asked to get in touch."