Sixteen rescued from Edinburgh tenement building fire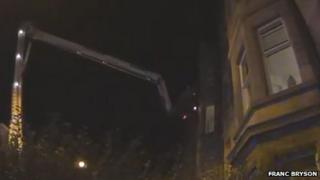 Sixteen people have been rescued from a tenement fire in Portobello in Edinburgh.
Ten residents, including two children, were treated for smoke inhalation at the scene in Bath Street.
The fire in the stairwell of the five-storey building began at about 18:30 on Sunday.
Six people, including the two children, were brought to safety from a upper floor by firefighters using a ladder and specialist high-reach equipment.
Zedd Stephen, 45, who has lived in Bath Street for five years, told the BBC Scotland news website he thought he and his family were going to die in the fire.
He said: "My wife, Saffire, opened our front door, we are on the third floor, and all the black smoke came billowing in.
"We were all choking, feeling unwell and thought we were going to lose our lives as it was that bad.
"My sons, Kurt, 16, and Craig, 18, wanted to jump out of the window.
"My wife's face was covered in soot and she had to be given oxygen for an hour afterwards."
He added: "It was just terrifying and I thought I was going to have to hang onto the ledge to get away from the choking smoke.
"Saffire was shouting from the window for help and firefighters who had been called to a fire just along the road came and rescued us using their turntable ladder."
Other fires
Group manager Jimmy Melvin, of the Scottish Fire and Rescue Service, said: "The heavy smoke logging within the common area of this block of flats caused the residents a great deal of distress and disruption.
"The first attending crews worked quickly to lead 10 residents to safety whilst the fire was extinguished and the area made safe.
"Some residents were reassured by firefighters at the scene and remained within their homes, taking advice from firefighters to conceal doorways to prevent smoke entering and to move to a safe room within the flat."
He added: "Residents should avoid at any costs placing refuse, or any combustible material, in these common areas, as this increases the risk of fires starting."
It follows two earlier fires in stairwells in Bath Street, one at 16:52 and another at 18:18 on Sunday.
Meanwhile, a woman was treated for smoke inhalation following a fire in a stairwell in Bridge Street at 18:50 the same day.
An elderly man was also treated for smoke inhalation after being rescued from a fire in a stairwell in King's Place at 19:22 on Sunday.