Surgeon completes online Edinburgh University course from Africa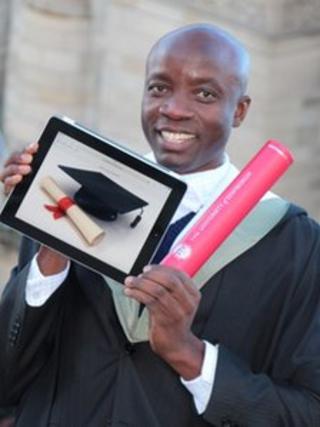 A surgeon is the first Malawian graduate from an online programme which allowed him to study remotely while working in an African hospital.
Dr Lughano Kalongolera, who lives in Malawi, has spent three years studying for an MSc in surgical sciences from Edinburgh University.
The qualification is offered jointly by the university and the Royal College of Surgeons of Edinburgh.
Dr Kalongolera travelled to Edinburgh for his graduation ceremony.
The part-time distance-learning programme began in 2006 and now supports more than 250 surgical trainees internationally.
Last week it was announced the course, as part of a suite of five online courses, had been awarded the Queen's Anniversary Prize for Higher and Further Education for excellence in e-learning.
Dr Kalongolera is one of seven Malawian surgical trainees to receive a £9,000 scholarship to cover the cost of his course.
Funding has come from the Scottish government's international development fund, with additional support from pharmaceuticals company Johnson & Johnson.
Dr Kalongolera, who is based at the University of Malawi's College of Medicine in Blantyre, said: "Most doctors have to travel abroad to acquire such knowledge and many do not return.
"By studying online with the University of Edinburgh, I have been able to remain in Malawi to learn, while continuing to treat those who need me most."
Prof David Dewhurst, director of learning technology for the College of Medicine and Veterinary Medicine at Edinburgh University, said: "Dr Kalongolera is the first of a very select group of Malawian surgical trainees to graduate from the university.
"The support for surgical training is part of a much larger collaborative project led by the university, which works closely with the University of Malawi to train doctors, nurses and clinical officers."
Humza Yousaf, the Scottish government's Minister for External Affairs and International Development, said: "This project demonstrates two of Scotland's key strengths, our innovation and our compassion as a good global citizen."
Prof James Garden, Edinburgh University's programme director for the MSc in surgical sciences, said: "Dr Kalongolera's graduation is evidence that the professional and academic development of the surgical trainee can be delivered effectively at a distance.
"His experience and success underlines the versatility of our award-winning masters programme in meeting the demands of surgical trainees, no matter where they are based."