Girl rescued after Edinburgh bin fire attack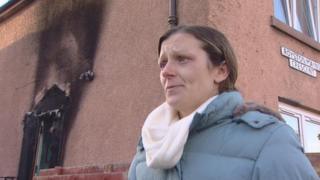 A young child has been rescued after a wheelie bin was pushed against the door of an Edinburgh house and set on fire.
The three-year-old girl, Lexi, was lowered from a window into the arms of bin men who were working in the area.
Firefighters arrived a short time after the alarm was raised, at 07:30 on Sunday, and led her mother, Leanne Cottier, 35, to safety.
The fire investigation unit has started to look into the circumstances of the fire at Royston Mains Crescent.
Ms Cottier told BBC Scotland she was sleeping when she heard banging on her door.
She said: "I ran to the top of the stairs and my house was just filled with smoke.
"I ran to the windows and started screaming for help and as I looked round the corner there were bin men who had been banging on my door and they came to the window.
"They were standing on each other's shoulders and I had to drop my daughter into one of their arms.
"I was terrified, I was scared for the wee one and myself. I thought we weren't going to get out.
"I was shaking, we've not eaten and not really slept.
"My wee boy was staying the night over at his friend's house and he saw it all from across the road. He is only seven and is very traumatised."
'Disgusting situation'
The house belongs to Ms Cottier's mother-in-law.
Neither Ms Cottier nor her daughter required hospital treatment.
Agnieszka Llewellyn, 38, Ms Cottier's friend and neighbour, said: "I feel devastated because my friend is going to move now. She is not well, I am not well, the kids are not secure. It is weeks if not months before the kids will sleep well again.
"It is a disgusting situation."
A spokeswoman for the Scottish Fire and Rescue Service said: "A bin had been placed against the front door of the property and set on fire.
"We used two breathing apparatus and one hosereel to extinguish the fire.
"A three-year-old female was lowered from the window into the care of bin men who were nearby prior to the arrival of the fire service and a 35-year-old female was led to safety by firefighters.
"They were treated at the scene by the ambulance crew but they didn't go to hospital."