Trapped Edinburgh cat may need toes removed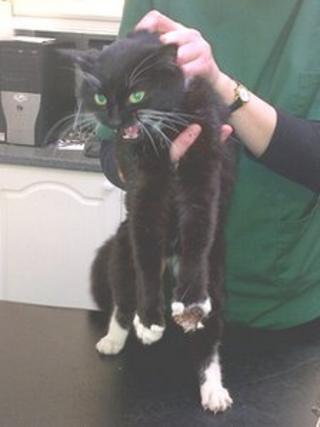 A cat found in Edinburgh with a trap attached to its leg may have to have his toes removed as they are so badly damaged.
The male black and white cat had a large fenn spring trap on its leg when he was found at Sir Harry Lauder Road on Tuesday.
The Scottish SPCA made an appeal in October when a cat from Duddingston Avenue suffered crushed paws.
The charity believes the two incidents may be linked.
Ch Supt Mike Flynn, of Police Scotland, said: "This cat had a fenn spring trap attached to its foot which would have caused him a great deal of pain and suffering.
"Spring traps must be set correctly to prevent non-target species becoming caught or injured and it appears this trap was set illegally, which is an offence under the Wildlife and Countryside Act 1981.
"Sir Harry Lauder Road and Duddingston Avenue are only around one mile apart so it's likely these two incidents are linked."
He added: "Thankfully, the vet has advised that this cat should make a full recovery but unfortunately the cat found in October was so severely injured he had to be put to sleep by his devastated owners at a vets.
"We did not receive any information as a result of our last appeal so we are now hoping that someone will come forward."