Black snake found slithering in Fife flats' hall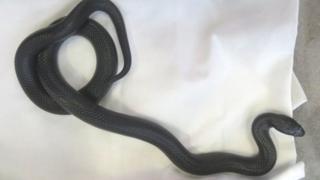 The owner of a stray snake found slithering along a hallway at a block of flats in Glenrothes, Fife, is being sought by animal welfare officers.
The Scottish SPCA was called to rescue the two-foot Mexican black kingsnake on Monday after a resident at Canmore Road spotted it on her landing.
It is now at the Scottish SPCA's Edinburgh and Lothians Animal Rescue and Rehoming Centre at Balerno.
The snake has been named Treacle. Its owner is being asked to come forward.
Travelling along pipes
Kieran Smart, of the Scottish SPCA, said: "The lady who found Treacle was rather brave and managed to contain him in a pillowcase until I arrived.
"Although Treacle was flicking his tail and letting us know he wasn't best pleased that we'd put an end to his adventure, he soon settled down after a short ride to our centre in the back of my van.
"He actually seems to be a fairly docile chap who is in good overall health."
Mr Smart added: "Treacle may have found his way into this lady's flat by travelling along pipework within the wall cavity so we think it's possible his owner lives within the building.
"However, it's a very large building with lots of flats inside so we're asking this person to contact us to reclaim their lost pet.
"If no-one claims Treacle we'll find him a loving new home."
Anyone who recognises the snake is asked to call the Scottish SPCA.