Drivers caught in Edinburgh cyclist boxes face £100 fines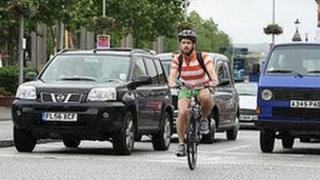 Police are cracking down on Edinburgh motorists, warning them of £100 fines if they drive into cyclist "safe zone" boxes at traffic lights.
The advanced stop zones at junctions, which are painted red or green, give cyclists priority at red lights.
However, some motorists drive into them while waiting for the lights to turn green by either ignoring them or failing to see them.
Police officers have warned 200 drivers over their behaviour in the past week.
Officers said one of the main issues they found was the numbers of drivers and cyclists failing to observe "no entry" signs, particularly in Shandwick Place.
They also said drivers had blamed their sat navs for taking them past "no entry" signs.
Police Scotland said it would also be targeting cyclists who break the law by riding through red lights, on pavements or ignore no entry signs. They would also face £100 fines.
The force is now starting the second week of the crackdown as part of a road safety initiative to promote safer driving and cycling in the city centre.
PC Stephen Kirk, from Police Scotland, said: "The first week of the initiative was aimed at educating road users whose behaviour on city centre roads warranted intervention, and over the past week we have been busy issuing advice to motorists and cyclists on how they can keep themselves and other road users safe.
"One of the main issues we have identified as far as motorists are concerned is the willingness to blame satellite navigation equipment for taking them down closed routes, despite it being incumbent on drivers to observe the signs.
"Likewise, we have identified a number of cyclists who have also used routes clearly marked 'no entry'."
He added: "In the week ahead we will be focusing more heavily on enforcement, and taking tough action against anyone we identify as repeat or blatant offenders.
"The ultimate aim of the initiative is to reduce road casualties in the city centre at a time of year where casualty numbers rise, particularly among cyclists.
Cycle counters
Jim Orr, Edinburgh City Council's vice convener for transport, said: "A lot of work goes into encouraging cyclists to use the centre of Edinburgh, and these areas at traffic lights can make drivers more aware that they need to keep some distance between them and bikes.
"They also help to make sure that cyclists feel as safe and secure as possible when travelling in the city."
Meanwhile, cycle charity Sustrans Scotland is installing Danish-style digital bike counters, the first of their kind in Scotland, at nine locations around the country, with grant funding from the Scottish government.
The high-visibility digital displays will allow people to see the total number of cyclists that have passed the counter on that day and over the course of the past year. The total figures will also be available online.
Eight locations have been selected to trial the counters and a master digital totem-pole will display the counts at all of the locations outside the Scottish government's Victoria Quay office in Leith, Edinburgh.
Earlier this year Sustrans invited bids from local authorities to host the counters and the winning locations were: Clydebank, Glasgow, Coatbridge, Stirling, Benderloch, Inverness, Perth, and Edinburgh.