Qatar Airways to launch new service between Edinburgh and Doha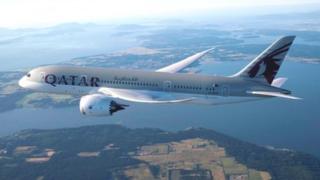 A new non-stop flight between Edinburgh Airport and Doha in Qatar is to be launched next year.
The service will be operated five days a week by Qatar Airways, which serves more than 100 international destinations from Doha.
The new Boeing 787 Dreamliner aircraft will fly all year round on the route, which will provide connections to Australian hubs in Perth and Melbourne.
It will be the Dreamliner's first scheduled service from Scotland.
Officials at Edinburgh Airport have long wanted to attract a major Middle Eastern carrier to allow them to compete with Glasgow International, which provides a twice daily Emirates service to Dubai.
On Monday it was revealed US Airways is to launch a route linking the capital with Philadelphia.
Richard Oliver, Qatar Airways country manager UK and Ireland, said: "We are pleased to be able to bring our five star service to Edinburgh and look forward to providing new options for Scottish travellers flying to the Middle East and beyond.
"Passengers will benefit from the state-of-the-art Boeing 787 Dreamliner with Qatar Airways award-winning service."
Scotland's Transport Minister Keith Brown hailed the move as "excellent news" for the aviation sector and said the new route was "yet more evidence of the strong bonds we are building with Qatar.
"The Scottish government has worked hard to foster links with the Gulf States, promoting Scotland as a market leader in oil and gas and a great place to do business.
"Direct services make Scotland a more attractive destination for both tourists and businesses by removing the need for extra connecting flights. This not only helps the economy by boosting tourism, but also encourages overseas trade and investment.
"The eyes of the world will turn to Scotland in 2014 with a programme of events that includes the Commonwealth Games, the Ryder Cup and a second Year of Homecoming and we are keen to share these exciting times with our friends around the world."
'Real advantage'
Gordon Dewar, Edinburgh Airport's chief executive, said: "We've been promising our friends and partners across the city and the country a Middle Eastern route for a number of years now.
"I am ecstatic to be sharing this news today and would like to thank all for their patience and support."
He said the announcement was the result of "real understanding and collaboration".
"I hope that it can continue as I think that it gives our country a real advantage when talking to airlines and making the case for Scotland," he said.
"We rebranded our airport for a reason. We wanted to reflect our ambition and raise our aspirations.
"We can now say with growing confidence that Edinburgh is where Scotland meets the world."