Bus fare app to cut out finding change in Edinburgh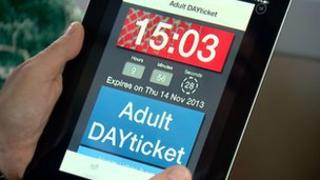 Lothian Buses is launching a new smartphone app which will act as a virtual travel ticket around Edinburgh.
The free app, which will be available on Apple and Android phones on Monday, will be the first of its kind in Scotland.
It will allow passengers to buy tickets before travelling so they do not have to find the correct change.
They then show the screen to the driver when boarding the bus. The minimum spend is £10, which lasts 90 days.
The app also has a range of personalised options for departures, journey planning service updates and a stop alert for passengers unfamiliar with certain routes.
Ian Craig, Lothian Buses chief executive, said: "It's a huge change. We are finally being able to introduce that level of modernity to ticketing, which has largely remained unchanged for a long time.
"This takes the interaction of the operator and the customer to a whole new level.
"We are really looking forward to personalising the relationship with the customer."