Edinburgh Council to recover £22m repairs debt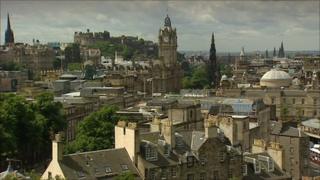 Edinburgh City Council is beginning moves to recover £22m it is still owed following the collapse of its property repairs service.
Up to 3,500 property owners in the capital have yet to pay for work carried out on their homes.
Under Edinburgh's statutory notice system, the city council paid up front for repairs to tenement buildings, and recovered the money afterwards.
However, the system collapsed when it was found to be open to abuse.
The city council is launching a pilot project to recover the cost of repairs for work carried out up to five years ago to 17 properties.
About 170 owners will receive letters before Christmas warning them they are still expected to pay sums ranging between £100 and £20,000.
Time to pay
The city council said it was obliged to recover the £22m of public money, but it was ready to offer every assistance to owners facing potentially large bills.
It is a pilot billing project that has been developed in partnership with Deloitte.
Nobody will be billed for work that was not in the original statutory notice.
The 17 properties have no outstanding issues, and other properties in the future will only be billed once any complaint issues have been resolved.
The council said people would be given time to pay.
It is consulting on a new system to replace statutory notices and aims to have one in place by April.
Andrew Burns, Edinburgh City Council's leader, said: "I am confident we're going to recover the majority of the money and we'll do it as robustly as possible, but we'll do it in a very sensitive manner.
"People can ask for assistance, and a payment schedule to be put in place.
"We want to make this process as smooth as possible."