James Trigwell: Blackberry Messenger 'groomer' admits unlawful sex attempt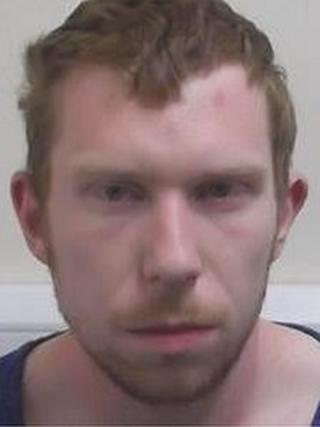 A Fife paedophile who was grooming young girls using the Blackberry Messenger service has been jailed for five years and four months.
James Trigwell, 28, from Dunfermline, contacted 21 girls, aged between 13 and 15, pestered them for photographs and sent them obscene messages.
Trigwell admitted attempting to have sex with a 13-year-old girl.
He pleaded guilty to sending sexual communications to girls under 16 between August 2011 and September 2012.
Trigwell was caught when the mother of one of his victims found explicit messages from him on her daughter's phone.
'Sustained offending'
He was sentenced on Thursday at the High Court in Glasgow.
Jailing him, judge Lord Pentland said: "This was a sustained course of sexual offending against young children.
"You sent a substantial number of text messages to 21 teenage girls aged between 13 and 15.
"You groomed them although with one exception you never met them."
Lord Pentland described Trigwell's victims as "emotionally vulnerable" and said he had carried out "calculated and persistent sexual abuse".
Trigwell told one girl that he hoped she would get raped.
Explicit poses
Another youngster refused to send photos and said she had been subjected to a sexual assault.
However, instead of sympathising with her, Trigwell wanted to know all the details, and asked her: "Just tell me, did he pin you down or just make you scared?"
Trigwell used the Blackberry Messenger (BBM) service to contact the girls, some of whom believed he got their user IDs from social networking sites.
When Trigwell's phone was recovered it had 140 images of the girl, whose mother subsequently found the messages. In some of them she was naked or semi-naked.
In his messages he had persistently spoken to the girl in a sexually explicit way and instructed her to adopt explicit poses, perform sex acts and take photos and videos to send to him.
Trigwell had also sent indecent pictures to the girl despite her telling him she was only 13.
The court was told he arranged to meet a 13-year-old girl and tried to have sex.
Det Ch Inspector Pauline McCallum, of Police Scotland, said: "Another unfortunate corollary of many digital platforms is that it allows children access to internet porn and allows the sexualisation of children at a young age.
"The residual damage associated with this is that young people are at risk of developing inadequate safety parameters and of allowing behavioural norms being accepted which are not beneficial to their future development."