Panmure House restoration gets $1m boost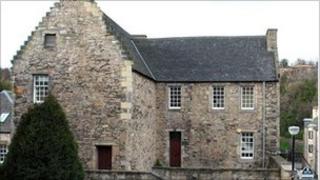 The historic home of economist Adam Smith in Edinburgh's Canongate has been gifted $1m (£624,000) towards its restoration.
The Global Philanthropic Trust's donation means the conservation work can start early next year.
Panmure House is the last home of the philosopher and economist who lived from 1723 to 1790.
It is also the last significant remaining home of any member of the Scottish Enlightenment.
It was bought in 2008 by Edinburgh Business School.
Future generations
The £3m project is led by Prof Keith Lumsden, director and founder of Edinburgh Business School, who also chairs the fund-raising committee of the Panmure House Campaign.
Prof Lumsden said: "On behalf of the whole campaign team, I am pleased to announce the generous donation the campaign has received from the Global Philanthropic Trust to support our efforts to restore Adam Smith's final home, Panmure House.
"Adam Smith is often said to be the world's first economist, he is a vital part of Scotland's heritage and a beacon of intellectual endeavour.
"Revitalising his last home as an educational centre will help ensure his pioneering thinking lives on in the minds of future generations."
Terry Kibbe, adviser to the Global Philanthropic Trust, said: "It has been 237 years since the publication of Adam Smith's Wealth of Nations, and his understanding of the mutual benefits of trade and voluntary co-operation are more relevant and more urgently needed than ever before.
"As the world struggles to lift ever more people out of poverty, Smith's ideas provide a modern roadmap to renewed prosperity."
The architect's designs for the £3m project were subject to a long negotiation with the city council and Historic Scotland, which culminated in a public inquiry in March 2011.
The proposals include public access and the re-creation of the link to its illustrious past, when Smith would regularly meet to debate with contemporaries, rivals and admirers such as David Hume, Adam Ferguson and James Hutton during the late 18th Century.
Panmure House is in Lochend Close, just a few steps from the Royal Mile and close to the Canongate Kirk, where Smith is buried.