Corstorphine Hill murder: Son pleads not guilty over Phyllis Dunleavy's death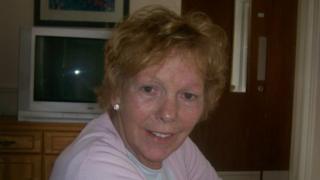 A man accused of beating his mother to death before burying her dismembered body on an Edinburgh hill has appeared in court.
A major police inquiry began in May when the remains of Philomena Dunleavy, 66, from Marino in Dublin, were unearthed on Corstorphine Hill.
Her son, James Dunleavy, 39, faces charges of murder and attempting to defeat the ends of justice.
Mr Dunleavy is being held in The State Hospital, Carstairs.
James Dunleavy, also known as Seamus Dunleavy, made a brief appearance at the High Court in Edinburgh before Judge Lord Uist to plead not guilty to the charges against him.
Mother 'unwell'
A trial, which is expected to last 20 days, is due to start in early January.
The murder charge alleges that between 30 April and 7 May, Mr Dunleavy attacked his mother at his then home in Edinburgh's Balgreen Road, inflicting "blunt force trauma injuries" as well as compressing her throat and severing her legs with a blade and a saw.
A second charge accuses Mr Dunleavy of pretending to neighbours that his mother had been unwell and had returned to the Republic of Ireland.
The charge goes on to allege that Mr Dunleavy dismembered his mother's corpse and put the body parts in a suitcase which he then took to a secluded clearing on Corstorphine Hill and buried them.
Mr Dunleavy, it is claimed, also cleaned blood stains from his flat, burned furniture and disposed of his mother's mobile phone.
Defence QC Gordon Jackson told the court: "There are two issues in this case. One is whether or not Dunleavy committed the offences - which he denies. The second is related to his mental and medical condition."