Puppies die after being thrown from car in Edinburgh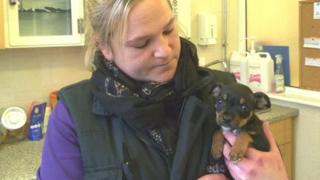 Four puppies have died after being thrown out of a car in a cardboard box in Edinburgh.
A member of staff was walking towards the entrance of the Edinburgh Dog and Cat Home at about 13:00 on Sunday when they saw a car pull up outside.
Two men threw a cardboard box out into a nearby lane and sped off.
The box contained four young puppies, not moving and covered in blood. A fifth puppy, which had fallen out of the box in mid-air, survived.
The puppies were checked or signs of life but, although they were still warm, they had already died.
The centre is appealing for anyone who knows who threw the six-week old dogs out of the car to come forward.