Edinburgh's Hogmanay: New Year festival kicks off a 'big year'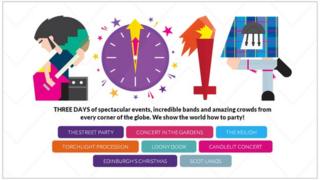 Edinburgh's 21st Hogmanay festival will kick off 2014 with the message "Scotland's big year starts here".
Organisers have unveiled full details of the capital's three-day celebration, which will include artists and arts organisations from all over Scotland.
There will also be the traditional Torchlight Procession, Street Party, Keilidh and Edinburgh Castle fireworks.
The Pet Shop Boys will be headlining the Concert in the Garden, while Django Django will be on The Waverley Stage.
The Scot:Lands event on 1 January aims to capture an atmosphere of communities, artists and their work at nine venues across the city.
Blogmanay posts
These include High:Land, Heid:Land, Shet:Land and NewFOUND:Land venues, with music, food and film from all around the country.
Social media will also play a part with the return of #Blogmanay, which will encourage a bank of live digital content made up of blogs, reviews, videos, photographs and tweets.
Pete Irvine, director of Unique Events, said: "Scotland's big year starts here. As anticipation and excitement builds for the biggest event year that Scotland has ever seen, we're ready to start it off."
Culture Secretary Fiona Hyslop added: "This year's Hogmanay celebration marks the start of Scotland's second Year of Homecoming, a year-long, co-ordinated programme of events designed to welcome the world and extend the benefits and opportunities offered by the Commonwealth Games and Ryder Cup.
"The 'Scot:Lands' event will also give people an opportunity to start 2014 as they mean to go on, exploring a feast of Scottish culture in Edinburgh, the best place in the world to celebrate New Year."