More passengers using main Scottish airports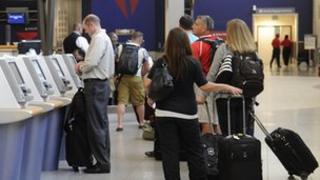 More passengers travelled through Edinburgh Airport last month than any other October on record, following the busiest six months ever for the hub.
A total of 917,437 people passed through Edinburgh Airport last month, a rise of 8.7% on October 2012.
At Aberdeen Airport nearly 327,800 people passed through in October, an increase of 3.8% on the previous year.
Glasgow Airport recorded its ninth consecutive month of year-on-year growth with 714,000 passengers.
Glasgow had an increase of 2.6% compared with October 2012.
'Strong demand'
At Edinburgh Airport domestic figures were up by 4.6%, with 428,064 passengers, and international travel also increased, with 489,373 people travelling through, an increase of more than 11%.
Gordon Dewar, chief executive of Edinburgh Airport, said: "Since May we've welcomed almost six million passengers through our doors.
"Edinburgh and Scotland continue to remain places where people want to visit for work or leisure and we're delighted to play our part as one of the main gateways to our country."
At Glasgow Airport domestic traffic grew by 3.2%, with "strong demand" for London and UK regional services, while international traffic grew by 2.1%.
Amanda McMillan, managing director at Glasgow Airport, said: "To record nine months of consecutive year-on-year growth is very encouraging.
"Our busiest weekend of the year falls in October when thousands fly out for the school holiday week, and this year it was a great success.
"Our operational teams, airlines, retailers and other business partners deserve huge credit as their effort and commitment is crucial in handling such a large volume of traffic."
Carol Benzie, Aberdeen Airport managing director, said: "The message from Aberdeen is a positive one.
"We are seeing the business performing well, our numbers are growing and we are moving into the winter season with positivity and preparedness.
"Our passenger numbers have grown each month since April this year and, as a team, we are all hopeful that trend continues."