Robert Shankland: Trio sentenced for Fife flat murder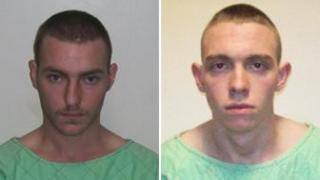 Three people who murdered a 46-year-old man after inviting him to a party in Fife have been given life sentences.
Kevin McDonagh, 23, Dean Smith, 20, and Paris Green, 22, were found guilty of murdering Robert Shankland in Brodie Court, Glenrothes, in March.
They must serve 18 years before applying for parole.
The victim had been invited to the property, where he was attacked and left in a room. He was later found dead.
Passing sentence at the High Court in Glasgow, Judge John Morris QC said: "This was a particularly gruesome murder which effectively involved the torture of your victim over many hours.
"It beggars belief that you could act towards another human being in this way."
Ham sandwiches
The jury had had heard how Mr Shankland was tied up with torn bedding, battered, kicked and attacked with a rolling pin.
A ligature was also tied around his neck and a plastic bag pulled over his head.
Mr Shankland - who suffered from heart disease - was killed either by suffocation or blunt force injuries.
The killers then ate ham sandwiches which had been paid for after selling their victim's mobile phone.
Green's friend Maggie Shields told the trial that she visited the flat and learned about the death - before recalling how the trio boasted about the beating.
The 31-year-old explained: "Dean jumped up quite excitedly and said: 'I will show you the body'. I still did not think that they had killed him."
Miss Shields went on to say the violence had erupted after a row about buying a bag of chips.
But the killers concocted a story claiming Mr Shankland had made sexual advances to each of them in turn.
The witness said she fled the flat and contacted the police.
Det Ch Insp David McLaren, of Police Scotland, said: "Robert Shankland was invited to a house which he thought was a safe place for him amongst people he had regarded as friends.
"McDonagh, Green and Smith carried out a violent and sexual attack on Mr Shankland and even after his death they made efforts to try and distance themselves from their wicked actions.
"I hope today's sentencing will allow Robert's family to begin to move on from this terrible episode and the fact that the individuals responsible for his death, who will spend a considerable period of time in prison, offers them some comfort.
"I would also like to thank the witnesses who came forward in this case, in particular the person who initially alerted the police, as without their swift actions this may have resulted in the family of Robert Shankland being left without answers to what had happened."