'Superheroes' nab attacker in Musselburgh Tesco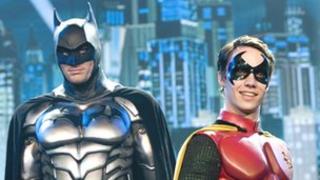 A group of people dressed as Batman, Robin, David Hasselhoff and a Smurf helped police officers catch a criminal in an East Lothian supermarket.
A man dressed as Robin was on Eskview Road in Musselburgh when he was assaulted just before 20:00 on Friday.
He and his friends, who were all in fancy dress, called police before chasing the attacker into Tesco.
After a scuffle in the toilet roll aisle, a 21-year-old man was arrested. He later pled guilty in court.
'Sorry Tesco'
The incident came to light after East Lothian Police tweeted about it, thanking the fancy-dressed group for their help.
One Tweet read: "Thank you to Batman, Robin, Robin's Dad, a Smurf, and the Hoff for helping us on Friday night. #Tesco, sorry about the toilet roll aisle."
Another Tweet by police officers in East Lothian read: "Robin assaulted, police called, collective assisted our foot chase, minor upset to shelving in Tescos during arrest, you couldn't script it!"
A Police Scotland spokesman said: "A 21-year-old man was arrested and charged in connection with an assault in Eskview Road, Musselburgh, on Friday 1 November.
"He was remanded in custody until Monday 4th November, where he appeared in court and pled guilty to the offence."