Great War exhibition to tour Scotland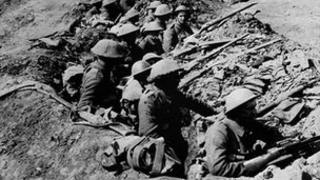 A major touring exhibition to mark the centenary of WW1 has been announced by the National Museum of Scotland.
It is part of a programme of events which will run from next year until 2018.
The Next of Kin exhibition will feature personal stories and artefacts reflecting on the experiences and human cost of the Great War.
It will be based in Edinburgh from next March until Spring 2015.
It will then tour eight venues across the country for a further three years.
The programme, which is part of the international First World War Centenary Partnership, a national and international programme of commemorative events, was launched at the National War Museum at Edinburgh Castle.
'Younger generation'
The programme also includes the Common Cause: Commonwealth Scots and the Great War exhibition, which will be held at the National Museum of Scotland between 11 July and 12 October 2014.
Culture Secretary Fiona Hyslop said: "We must never forget the impact World War One had on our country, our families and our communities.
"These exhibitions will give people across Scotland the opportunity to learn about how World War One changed Scotland and the wider world forever.
"It is especially important that the younger generation are able to learn about these life-changing events and that they have the opportunity to know the depth of human fortitude and sacrifice that took place."
Dr Gordon Rintoul, director of National Museums Scotland said: "The First World War affected millions of Scots, whether at home or in service, and people of Scottish descent all over the world.
"Behind the bare statistics of war, there are countless individual stories of heroism and loss, triumph and tragedy.
"Many of the objects in our collection are deeply linked to these stories and individuals, and provide a tangible link to events which, a century on, have passed from living memory.
"Our programme of commemoration will share the Scottish memory of these world-changing events with national and international visitors."