Edinburgh University study to look at Alzheimer causes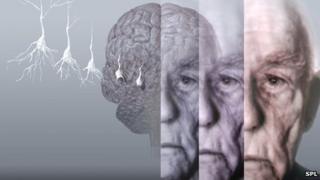 New research into Alzheimer's is examining why connections in the brain deteriorate and cause memory loss.
The three year study could bring new treatments a step closer, according to scientists at Edinburgh University.
More than 80,000 people in Scotland suffer from Alzheimer's, and the number is due to double in the next 25 years.
Now the Alzheimer's Research UK charity and the Scottish government are funding a £450,000 study looking at the causes of the disease.
Researchers at Edinburgh University will study changes in the brain, which stop nerve cells communicating with each other.
As they break down, memory begins to fail. Working with scientists in America, they hope to get a much clearer understanding of the basic biology of Alzheimer's which could inform clinical trials of new treatments for the disease.
Clinical trials
Dr Spires-Jones, a reader and chancellor's fellow in the centre of cognitive and neural systems at Edinburgh University, said: "We are thrilled to have secured this funding, which will allow us to gain a much clearer understanding of the mechanisms at play in Alzheimer's disease.
"There is still much we need to learn about the basic biology of Alzheimer's in order to understand how to treat the disease, and the knowledge we gain from our research should inform clinical trials for much-needed new treatments."
Michael Matheson, Minister for Public Health, said: "This Scottish government recognises the future challenges that we face in relation to dementia.
"That is why earlier this year we published our second three-year National Dementia Strategy which will further improve diagnosis rates, transform the quality of post-diagnostic support and take forward a national action plan on improving care for people with dementia in hospitals."
Dr Eric Karran, director of Research at Alzheimer's Research UK, said: "We firmly believe this study could bring us closer to an effective treatment for Alzheimer's, and we look forward to seeing the results of this research in due course."