Edinburgh trams: Dozens of inspectors sought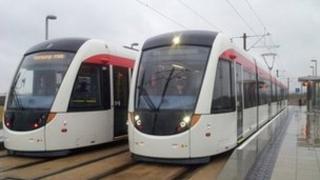 Dozens of ticket inspectors are being sought to work on the new Edinburgh trams next year.
More than 50 "ticketing services assistant" positions have been advertised by Edinburgh City Council.
The inspectors will also ensure customers pay their fares and give customer service advice on the trams.
The city council said it was confident it could meet the revised budget of £776m and the latest target of the line operating by summer 2014.
About 130 staff will work on the Edinburgh tram line once it goes live.
Earlier this year 1,336 people applied for 57 tram driver and controller positions.
Lesley Hinds, Edinburgh City Council's transport convener, said: "Understandably there has been a focus on the role that tram drivers will play in the launch of the new service and we were overwhelmed at the amount of interest in these positions.
"However, we need a whole team to help ensure the smooth running of the new tram service and ticketing services assistants will play a vital part in this."
Professional people
She added: "They will be the face of the service, dealing directly with the public on a daily basis, and so we're looking for personable, professional people who will help us to deliver an efficient and customer-focused tram service for Edinburgh.
"This is an exciting phase in the project with preparations for the launch of passenger services beginning to move up a gear."
Applications are now open and interviews will be held over the next couple of months.
Start dates for the inspectors will be staggered from early January through to March 2014.
The starting salary for the role is £17,000 per year for a 40-hour week.