History festival to bring past to life in Edinburgh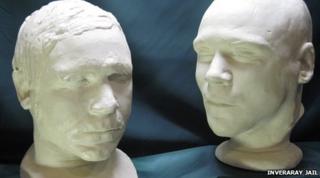 Body snatching, women in wartime and a "rock star" monarch are just some of topics explored at a history festival in Edinburgh.
People will be able to join in events about killers Burke and Hare, the role played by women in The Great War and Scotland's flamboyant King, James IV.
Edinburgh University is sponsoring the 15-day event called Previously…Scotland's History Festival.
It takes place between 13 and 30 November.
Academics and students are taking part in almost 300 programmed events, including walking tours, debates, poetry cabarets and lectures at historical locations.
Other highlights include a talk on the West Port murders by Edinburgh University's head of anatomy, Dr Gordon Findlater.
School discussions
The killings saw Burke and Hare accused of selling cadavers for dissection in 1828.
The lecture will take place in the "murky surrounds" of Edinburgh Dungeon on 15 November.
Academics from the university's school of history are also taking part in a day of talks and discussions with school pupils on women, The Great War and the vote.
University historians will also speak about the role of women in history in a public lecture, The Private and Public Lives of Scottish Women, on 22 November.
Margaret Thatcher's impact on Scotland will be discussed in The Sermon on The Mound on 22 November, where Professor Ewen Cameron will speak.
Dr Trevor Griffiths, Edinburgh University's head of history, said: "The festival provides fantastic opportunities for our researchers to engage with audiences in a number of exciting ways, connecting our study of the past with present-day concerns and debates."
Scottish authors' attitudes to the monarchy throughout history will be discussed in a lecture in the university's department of English Literature on 27 November.
And historian Dr Katie Stevenson will explore the world of King James IV - known as Scotland's rock star monarch - in an event the following day.