Vets put down cat with crushed paws in Edinburgh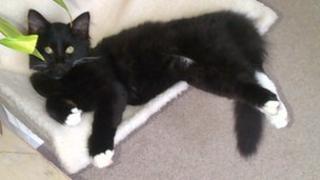 A cat found with severe paw injuries, consistent with being crushed in a trap, in Edinburgh has been put down to end his suffering.
Sid, a seven-month-old tom cat, was found outside his home in Duddingston Avenue on Saturday with the injuries and was taken to the vet.
While spring traps are legal, they must be set correctly to prevent non-target species becoming trapped or injured.
The Scottish SPCA is appealing for information and witnesses.
'Not set correctly
Ch Supt Mike Flynn, of the Scottish SPCA, said: "The vet who examined Sid said that the injuries to his paws were consistent with being crushed in a spring trap.
"If Sid did come to harm in a spring trap, it would appear it was not set correctly, which would be an offence under the Wildlife and Countryside Act 1981.
"Sid would have been in tremendous pain and this is a tragic outcome.
"We know that he was injured at some point on Saturday as was let out in the morning as usual and found at 21:30 that evening.
"His owners are understandably devastated and they are desperate to understand what happened to their much-loved pet."