Thomas Brogan jailed for life for murdering Georgina Barnett in Kirkcaldy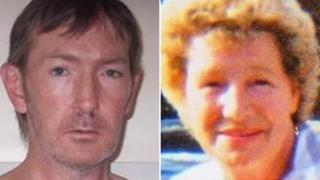 A drunk man who murdered a 90-year-old woman in her Fife home because he was angry his mobile phone was not working has been jailed for life.
Thomas Brogan, 46, must serve 18 years before he can apply for parole.
Brogan attacked Georgina Barnett, who lived alone, after turning up at her house in Kirkcaldy on 25 June 2013.
Mrs Barnett, who was 4ft 11in tall, died in hospital five days later. Brogan was sentenced at the High Court in Edinburgh.
Lord Pentland said Brogan, who had previously admitted murder, had "utterly lost control" and carried out "a vicious and sustained attack on a vulnerable old lady".
The judge said: "It seems clear you utterly lost control of yourself."
Thomas Johnston, Mrs Barnett's nephew, said: "He is a drunken hooligan. He is an animal.
"What words can describe the injuries? They are that horrific but we will just have to live our lives and get on with it, I suppose.
"I'm glad to know he won't be seeing the light of day until he is 60 odd years of age."
Lord Pentland said he took into account aggravating features such as the unprovoked nature of the attack, the high level of violence fuelled by gross alcohol consumption, and that the victim was elderly and vulnerable.
He told Brogan he would have faced a minimum term of 22 years had he not pled guilty to the charge.
Police who were called to the scene of the assault in Ramsay Road found the victim on the living room floor with serious facial injuries and blood on a wall behind her.
She repeatedly asked officers: "Why was he hitting me?"
Before she died, osteoporosis sufferer Mrs Barnett - who was known as Doddy - told detectives she did not know what prompted the attack, but said Brogan had come to her house "looking for the boy next door".
A deep cut to Mrs Barnett's head was consistent with her striking a hard surface and other injuries were capable of being inflicted by clenched fist punches.
Advocate depute Leanne Cross told the court: "Mrs Barnett's family are utterly devastated by their loss.
"They are finding it difficult to come to terms with the death of Mrs Barnett and the manner of it."
'Good lady'
Mrs Barnett suffered a brain injury, bruising, cuts and 11 fractures to her ribs and sternum.
The prosecutor said: "The scale and nature of the injuries, even allowing for her age, demonstrate a sustained and forcible attack."
The prosecutor said Mrs Barnett's husband had died about 30 years ago. She had a daughter who emigrated to the US and kept in touch with her by phone.
Brogan was known to his victim through a neighbour who lived across the hall from Mrs Barnett's flat.
He and the neighbour were "drinking associates". Brogan would sometimes visit Mrs Barnett with the neighbour.
Defence counsel Mark Stewart QC earlier said Brogan wished publicly to apologise to all those affected.
He said Brogan had described his victim as "a good lady" and found his behaviour on the night of the attack "entirely incomprehensible".
Det Insp Gary Boyd, of Police Scotland, said: "Only Thomas Brogan knows why he carried out this unprovoked and violent attack on his helpless victim, who was a much loved member of the local community.
"His actions demonstrate how dangerous an individual he is and today's sentence means he will spend a significant period of time behind bars.
"No prison term, however, can undo the hurt Thomas Brogan has caused the family of Georgina Barnett and I can only hope that they can now move on from this ordeal and begin to put their lives back together."