Financial order given to Edinburgh 'madam' Margaret Paterson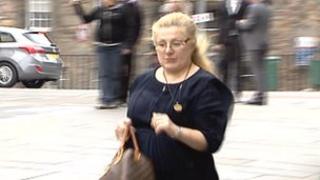 A jailed madam who ran a lucrative prostitution racket and her former business partner have been hit with rare strict financial reporting orders.
Margaret Paterson and Robert Munro will have to reveal assets, income and expenditure over an eight-year period.
Failure to comply could result in a jail sentence
They were each sentenced to five years in jail at the High Court in Edinburgh in July 2013 following their conviction of offences linked to the sex trade.
The pair, both aged 61, returned to the same court earlier as prosecutors sought to have the orders imposed on them in only the second case of its kind in Scotland brought under serious organised crime legislation.
Judge Michael O'Grady, who heard their earlier trial, said he was satisfied that they should be made and an initial report should be provided by the end of January next year.
The judge said: "It is, of course, far from unusual for the court to impose an extended period of supervision following conviction."
He said Paterson and Munro had engaged in a sophisticated course of criminal conduct over many years.
The move was opposed by lawyers acting for the pair, with Edward Targowski QC, for Paterson, claiming the Crown's argument in her case was "disingenuous".
Cameron Tait, solicitor advocate for Munro, said he had no intention of becoming involved in an escort agency again and said the bagpipe player wanted to play Scottish music at social functions on his release.
Advocate depute Iain McSporran argued there were a number of matters from which an inference could be drawn that the risk of committing further offences was sufficiently high to justify making the orders sought by the Crown.
He said from background reports prepared on them it appeared that "neither accused truly accepts they were committing a criminal offence over a period of years".
He said the pair had carried out "a clearly business-like and well-organised albeit criminal enterprise".
"It would plainly be a relatively simple matter for them to recommence such activities when at liberty to do so," said the advocate depute.
"They have shown such skill and acumen to render it perfectly reasonable that they will return to this sort of conduct when able to do so," he said.
Mr McSporran argued the commission of further offences was "highly likely".
"Plainly in making a financial reporting order the court will have regard to the fact it does impose a burden of sorts on the accused," he said.
But Paterson's counsel, Mr Tragowski, said the reason why the application arose was because she was reported in a newspaper article to have made certain comments indicating she was intending to carry on with the business after her release.
He said it could now be shown to the court that she never made that statement.