Constable painting Portrait of Laura Moubray on show at National Galleries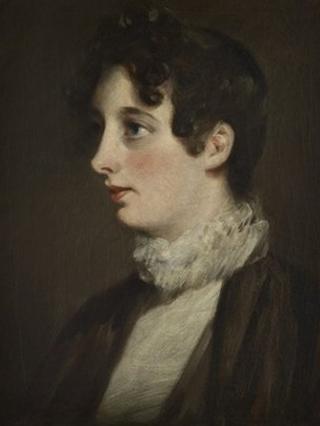 A rare painting by John Constable has gone on show at the National Galleries of Scotland.
Portrait of Laura Moubray is one of the artist's earliest surviving works and belonged to the late artist Lucien Freud.
It was given to the galleries under a government scheme allowing the donation of important works of art to public collections in lieu of inheritance tax.
The galleries said it complements their existing Constable collection.
The National Galleries of Scotland already have the landscape The Vale of Dedham (1828) and the small sketch On the Stour (1830).
Michael Clarke, director of the Scottish National Gallery, said: "We are absolutely thrilled to receive this charming and intriguing picture.
"Lucian Freud had a very discerning eye and now our public will also be able to appreciate the qualities Freud found in Constable's rare and unusual portraits."
Scottish connection
Freud, who died in 2011 aged 88, was renowned as one of the most important and influential artists of the twentieth century and the National Galleries of Scotland has a number of key works by him.
Constable, who lived from 1776-1837, is believed to have painted only about 100 portraits during his early career, of which about 50 survive.
The Galleries said they provide a fitting context for Portrait of Laura Moubray through their collection of English portraits, which include major works by Thomas Gainsborough, Sir Joshua Reynolds and Sir Thomas Lawrence.
There is also a Scottish connection to the picture through the sitter's husband, Robert Moubray of Cockairny and Otterston (1774-1848), Deputy Lieutenant of Fifeshire.
The Acceptance in Lieu (AIL) scheme allows those who have an inheritance tax bill to gift significant items to the nation and satisfy more tax than by selling items on the open market.
It also allows museums and galleries to increase their collections at no cost to them while the donor gets full market value.