Man found in Edinburgh's King's Stables Road with head injuries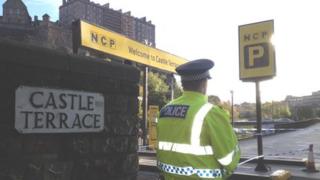 Police have launched an investigation after a man was found with serious head injuries in Edinburgh's Old Town.
He was discovered on the road in King's Stables Road at 02:15 and was taken to the Western General Hospital where he is in a serious condition.
The man, who has a Pokemon-type tattoo, was lying near the entrance to Princes Street Gardens, opposite the multi-storey NCP car park in Castle Terrace.
Both King's Stables Road and Castle Terrace car park have been closed.
Police are carrying out inquiries to establish the circumstances behind the incident, and are appealing for information that could help them identify the injured man.
Officers are making contact with universities and colleges across Edinburgh in case he is a student who had been out socialising on Wednesday as it is a popular student night in the capital.
Goatee beard
Inquiries are also being carried out at pubs and clubs in the area.
The man was described as being white, aged 18 to 30, 5ft 8ins to 6ft tall, of slim build, with a small goatee beard. He was wearing a long-sleeved blue and red top, light grey washed-out jeans, and blue high-top canvas boots with SER 55 printed on them.
His tattoo is in distinctive dark ink on the inside of his left forearm, and features a Pokemon-type character and a series of symbols (possibly Japanese) running the length of the tattoo.
Det Sgt Lyle Shaw, of Police Scotland, said: "Anyone who recognises his description, or who has concerns over a young male relative or friend that they may not have seen or heard from today, should contact police.
"Similarly, we are appealing to anyone who was in the area of King Stables Road or Castle Terrace in the early hours of this morning, who saw someone matching the description of the injured man, to come forward."