Free evening Christmas parking in Edinburgh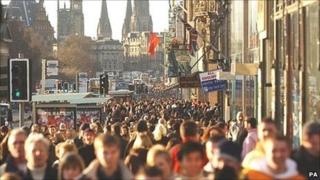 Late-night shoppers will be able to park their cars for free in Edinburgh city centre in the run up to Christmas.
Edinburgh City Council is again waiving parking charges from 17:00 between 2 and 28 December in a bid to attract shoppers to Princes Street.
Alive after Five also encourages shops in the area to remain open until 19:00 during the festive period.
It is the second year running that the scheme has been in place leading up to Christmas.
Lesley Hinds, Edinburgh city Council's transport convener, said: "The Christmas shopping period is the busiest time of the year for retailers and we want to encourage facilities to remain open for longer to make the most of this.
"We have agreed with Marketing Edinburgh and Essential Edinburgh to continue with free evening parking this year as part of Alive after Five as it is popular with shoppers at Christmas and those wanting to take advantage of some of the fantastic new attractions that make up this year's Edinburgh's Christmas.
"There are no longer road closures in the city centre due to tram works, which is another great bonus."