Call to review roof space loophole in Edinburgh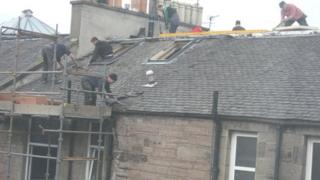 An MSP has called on the government to review a legal loophole which allows landlords of top-floor flats to build into communal roof space.
Some property developers have been converting tenements flats into larger properties for rent in Edinburgh in a bid to reap financial rewards.
Although roof repairs are shared by all residents in a block, top-floor flat owners are able to install windows.
Alison Johnstone said there was a need to raise awareness of the issue.
The Green MSP told BBC Scotland that greater protection for tenement residents was needed.
She said: "We have heard of a couple of cases in Edinburgh where the top floor flat, from a one bedroom flat is being developed to a four bedroom flat and neighbours have had no warning at all, which is simply not good enough.
"That just makes you feel really disempowered and when constituents have gone to planning and to building regulators they have been told there is nothing they can do.
"I think it is worth the government having a look at the legislation in this area, to make sure that all those who live in tenements enjoy the full protection and understand exactly what can happen in that space."
A top floor flat in Dalry was turned into a three bedroom property after Glasgow-based developer James Logan of Solenglen Ltd, who was unavailable for comment, knocked through into the communal attic and roof.
The loft space at Murieston Terrace was fitted out with two bedrooms and a bathroom, and builders cut through the roof to install five windows.
The landlord has 11 other large, shared flats in the area. HMOs (house in multiple occupation) can earn landlords in excess of £1,250 a month in rent.
Equal share
Edinburgh City Council does not require landlords to have planning permission to create an HMO flat out of a smaller property and communal roof space.
However, the other owners in the tenement block are still liable to pay an equal share of the costs of maintaining the roof.
Jim and Betty Russell have lived on the stair at Murieston Terrace for 47 years, said: "Until this happened everyone in our stair thought they had a joint share in the attic space and roof.
"In all our time here neighbours have paid equal shares of repair costs and maintenance.
"We don't know where we stand now and how can it be fair that one owner can ride rough shod doing whatever he wants for his own benefit and profit, without even having the courtesy to let neighbours know what is intended.
"We find it incredible that a building warrant can be provided without checks occurring to determine ownership or that the agreement of other owners has been provided."
An Edinburgh City Council spokeswoman said: "Dispute of land ownership is a civil matter and the council has no powers to get involved."