Queensferry Crossing 'will not have tolls', says John Swinney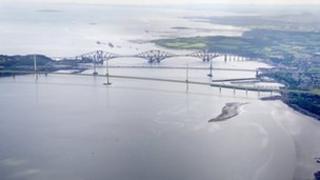 The £1.4bn Queensferry Crossing will be toll-free when it opens in 2016, Scotland's Finance Secretary has said.
John Swinney told the SNP conference that as long as there was a nationalist government at Holyrood there would be no charge.
Tolls on all road bridges in Scotland ended in February 2008.
The new crossing over the Forth is being built to replace the existing structure, linking Edinburgh and Fife, which is deteriorating.
Mr Swinney told his party's Perth gathering that the Scottish government's decision to lift polls from the Forth and Tay Bridges five years ago resulted in commuters saving up to £233 per annum.
He added: "The Queensferry crossing - the biggest infrastructure project in a generation - is helping the people of Fife with jobs, apprenticeships and contracts for local companies. It is being delivered on time - and it is being delivered under budget.
"And when it opens in 2016, and for as long as we are in government, I guarantee, there will be no tolls on the Queensferry crossing."
After years of lobbying by anti-tolls campaigners, the Labour/Lib Dem coalition removed charges on the Skye Bridge in December 2004 and on the Erskine Bridge in May 2006.