Yamkala Sapkota set herself on fire after failing driving test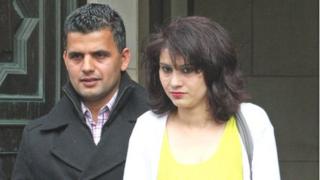 An Edinburgh woman who set herself on fire in despair after repeatedly failing her driving test has walked free from court.
A judge told Yamkala Sapkota he did not believe it would happen again.
She admitted culpably and recklessly starting the fire, severely injuring herself and endangering the lives of others and property on 28 June 2011.
In August 2012 the judge had deferred sentence to allow Sapkota to show she could stay out of trouble.
At the High Court in Edinburgh, defence advocate Sarah Livingstone said Sapkota, 31, had already paid a price.
She said: "She has been punished by the terrible injuries she suffered. She is still receiving treatment for them."
White spirit
As he admonished her, the judge said it had been the right way to deal with the case.
The court heard that Sapkota had failed her driving test for the fourth time despite taking more than 90 lessons.
Her failed efforts to get on the road had placed a burden on the family's finances and led to rows with her husband.
Sapkota doused her clothes in white spirit and set herself alight after leaving a suicide note written in her native Nepalese, saying she no longer wanted to live.
A neighbour was alerted and a 999 call brought firefighters to her flat in Gordon Street in the Leith area of Edinburgh.
They used breathing apparatus and managed to rescue the semi-conscious woman. She had suffered burns to her face, back and arms.
Defence counsel Sarah Livingstone said Sapkota was trying to harm herself and no-one else.