Dr Kiran Patwardhan allowed back to work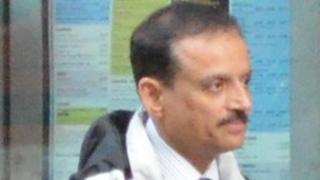 An Edinburgh children's doctor found guilty of serious misconduct in his treatment of three patients has been told he can carry on working.
The General Medical Council found Dr Kiran Patwardhan made the failings while working at The Royal Hospital for Sick Children in 2011.
Dr Patwardhan had admitted a string of mistakes but had denied a number of factual elements of the allegations.
Dr Patwardhan kept his job because the GMC allowed him to continue practising.
Conditional registration
The medic was on Wednesday made subject to 11 conditions by a fitness to practise panel in Manchester.
The GMC's conditions state Dr Patwardhan must notify the GMC of any job he takes in or outside the UK and inform the regulator of any disciplinary proceedings against him.
He is restricted to working in the NHS in paediatrics or paediatric intensive care, and the latter must be closely supervised by a named consultant.
Dr Patwardhan must also agree to the appointment of a mentor and workplace reporter approved by the GMC as well as informing any employer that he is subject to conditions.
The conditions will come into force in 28 days, subject to appeal, and the doctor will have to face a review hearing before the end of the period of conditional registration before he is allowed to work unrestricted.
Breathing tube
In the cases the children's lives were saved when colleagues intervened.
The most serious incident involved a baby who was in hospital suffering from scalds to the face and neck when Dr Patwardhan took over his care.
The 15-month-old baby was "close to death" when complications arose during a procedure to remove a breathing tube, the Medical Practitioners Tribunal Service previously heard.
However, a senior colleague was able to take charge of the situation and the child made a full recovery.
Prof Denis McDevitt, GMC chairman, said: "The panel considered that the greater sanction of suspension would not only be disproportionate but would not assist in the longer term protection of the public and public interest."
Dr Patwardhan was criticised by the panel over his poor communication, inadequate leadership and unclear decision making.