Body found in Bolton woods may have link to Scotland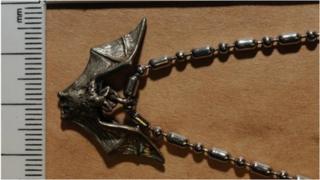 Police trying to identify the decomposing body of a young woman found in woods in Bolton are examining links to Scotland.
The remains were found near Manchester Road, beside the River Croal, last Thursday afternoon.
Greater Manchester Police said it was unclear how the woman died.
Officers said she was found with an Edinburgh to Manchester train ticket and released images of her possessions and a distinctive bat necklace.
The woman was described as between 18 and 25, probably white and 5ft 2in to 5ft 4in tall.
She wore size 12 clothing and had dark brown or black long hair, fastened in a pony tail with a red elasticated bobble.
Police said she also had a number of facial piercings and pierced navel.
The woman had on a dark duffle-style coat with fur collar, black tight fitting trousers, a T-shirt with a diamante cat on the front, black cardigan and shin-high Doctor Martin boots.
Det Insp Michael Fraser said: "She was also wearing a distinctive necklace with a bat pendant and had a chain secured to her waist band on which were a 4in pink 'mini-Maglite' style torch, an Aldi shopping trolley token with a black cat on the back, a PNY USB memory stick, a Sandisk 16GB microSD memory card and a Sony Walkman MP3 player."
In her pocket was a train ticket and timetable for the Edinburgh to Manchester Airport line.
Det Insp Fraser said the body had lain undiscovered for a few weeks or even months and appealed for help to identify the woman and piece together her final movements.
Police Scotland said it had offered assistance to Greater Manchester Police as they carry out the inquiry.
The woman is not believed to be missing Edinburgh student Yulia Solodyankina.