Dr Kiran Patwardhan guilty of blunders at Edinburgh children's hospital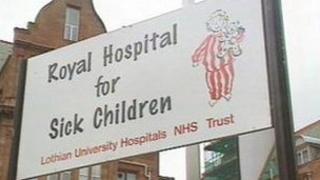 An Edinburgh children's doctor has been found guilty of serious misconduct for "potentially life-threatening" failings in his treatment of three patients.
The General Medical Council found Dr Kiran Patwardhan made the failings while working at The Royal Hospital for Sick Children in 2011.
In the cases the children's lives were saved when colleagues intervened.
Dr Patwardhan had admitted a string of mistakes but had denied a number of factual elements of the allegations.
Poor communication
The most serious incident involved a baby who was in hospital suffering from scalds to the face and neck when Dr Patwardhan took over his care.
The 15-month-old baby was "close to death" when complications arose during a procedure to remove a breathing tube, the Medical Practitioners Tribunal Service previously heard.
Dr Patwardhan is now facing a possible ban after a panel found his fitness to practise impaired because of his misconduct.
Chairman of the panel, Prof Denis McDevitt, said: "You have admitted and the panel has found proved failures relating to poor communication, inadequate leadership and lack of clarity in decision making.
"The panel considers that your actions in all three of the incidents in 2011 put patients at risk and that, without your colleagues acting as they did, there could have been serious consequences.
"It has taken into account that you have been a consultant in paediatric intensive care for 13 years."
He added: "The panel considers that there were serious failings in your management of all three patients, some of which were potentially life-threatening.
"It agrees with the two expert witnesses that, when looked at globally, your failings during these three incidents amounted to misconduct and that the misconduct was serious."
The doctor's senior manager and assistant medical director at the RHSC, Dr Edward Doyle, told the panel last week, Dr Patwardhan would keep his job in Edinburgh if allowed to continue practising.
Remedy deficiencies
Prof McDevitt told Dr Patwardhan: "The panel acknowledged the admissions you have made throughout this hearing and accepted that you have demonstrated insight into your clinical failings.
"It has also taken into account the efforts you have made to remedy your deficiencies and the courses and workshops you have attended in this regard.
"However, the panel has accepted the evidence of Dr Doyle that your remediation is a process which has not been completed.
He added: "In all the circumstances of your case, the panel has concluded that your fitness to practise is currently impaired by reason of your misconduct.
"In reaching its decision the panel has borne in mind its duty to protect the public and the wider public interest, including the need to maintain standards within the profession."
The hearing continues.