Edinburgh Zoo pandas: Sadness as Tian Tian loses cub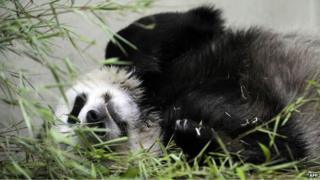 It's been a tearful and tricky morning at Edinburgh Zoo.
For weeks now the three panda keepers have been on edge, watching and waiting around the clock.
An office had been turned into a nursery, fitted out with two incubators, a camp bed and bottles for milk.
A fourth keeper with experience in panda births, Hu Haiping, had flown in from the China Conservation and Research Centre for the Giant Panda in Sichuan province.
The panda enclosure was even shut to visitors as Tian Tian became sensitive to noise, one of several encouraging signs that she was about to give birth.
The stress was heightened by the difficulty of saying for certain whether Tian Tian, who would not co-operate with an ultrasound scan, was indeed with cub.
Because pandas often have pseudo- or phantom-pregnancies, changes in behaviour and hormones are not definitive.
However, all the preparations were in vain.
The zoo's scientists now say they are as sure as they can be that Tian Tian did indeed conceive after artificial insemination in April and that she lost her cub late in the term of her pregnancy.
That would not necessarily be obvious as a panda can reabsorb the tiny foetus into its body rather than having a miscarriage.
Captive breeding
"We are all saddened by this turn of events after so many weeks of waiting," said Chris West, chief executive of the Royal Zoological Society of Scotland, which runs the zoo.
"The majority of research centres and zoos with giant pandas around the world have not successfully bred until the third or fourth year and what we have achieved considering we have had giant pandas for less than two years is immense."
The failure at Edinburgh has again raised questions about the efficacy of a captive breeding programme.
Giant pandas are endangered as a result of human activity destroying their habitat in Sichuan, where they have been driven higher and higher into the mountains.
There may be as few as 1,500 left in the wild.
Malcolm Kennedy, professor of natural history at Glasgow University, has been studying panda milk and has concerns over the breeding process.
He said: "The males are usually so disturbed by the captive environment that they can't perform properly, and that's usually why pandas have to go through artificial insemination - because the males are so stressed.
"They are not properly socialised and so they end up with aberrant behaviour."
Professor Kennedy questioned whether money would be better spent on improving pandas' natural habitat so the wild population could expand.
"It does worry me that so many pandas are being bred in captivity, and yet can they actually be introduced to the wild?" he added.
"And the answer is probably not yet."
Nonetheless the zoo's bosses are attempting a positive spin. They insist that every failed attempt to breed a panda adds to the knowledge needed to save the species.
Prof West said: "New hormone research is beginning to indicate that lost pregnancies are more common in giant pandas than first thought, though at the moment no-one knows why.
"We are working as part of a global giant panda conservation programme and will continue to work closely with our international colleagues. The research and work we do here goes towards better understanding giant panda biology, education and conservation in the wild.
"We exist to safeguard species from extinction. We will carry on and are confident we will succeed."
They will try again, they say, and are confident that Tian Tian will eventually give birth to the UK's first ever panda cub.