Edwin Lucas paintings unseen for 60 years found in Edinburgh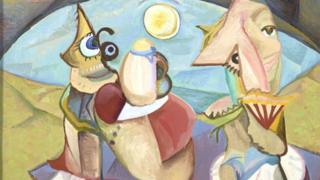 Paintings, left unseen in a self-store lock-up in Edinburgh for 60 years, have been acquired by the Scottish National Gallery of Modern Art.
The five paintings are by Edwin Lucas, a talented amateur painter whose work was brought to the attention of curators following a recent exhibition.
Lucas was encouraged away from a life as a painter and worked for the civil service.
Painted between 1939 and 1949, the works show his take on Surrealism.
They are now on show at the Edinburgh gallery, as part of the gallery's New Acquisitions exhibition.
Self-taught
Lucas was born in Leith in 1911 and educated at George Heriot's school.
Curators said he showed promise in drawing and painting at an early age, but his family discouraged him from considering art as a career.
He went to life drawing evening classes at Edinburgh College of Art but was otherwise self-taught.
Towards the end of the 1930s, he discovered Surrealism.
He exhibited regularly in Edinburgh from 1933 onwards and held solo shows at the New Gallery in Shandwick Place, Edinburgh, in 1950 and 1951.
After his marriage in 1952, he stopped painting. His work remained almost unknown and he died in 1990.