Dunfermline by-election: Smaller parties hit campaign trail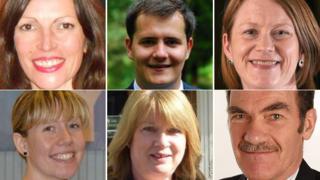 The Scottish Green candidate in the forthcoming Dunfermline by-election has said she hopes to inspire people to "re-engage with politics".
Zara Kitson is one of seven candidates standing for the seat, with voters in the Fife town due to go to the polls on 24 October.
Ukip candidate Peter Adams said he believed his stance against windfarms would find favour with the electorate.
Independent John Black said he wanted people in Scotland to "demand better".
The by-election was caused by the resignation of sitting MSP Bill Walker, who has been jailed for a year after being convicted for assaults on three ex-wives and a step-daughter.
He was elected for the SNP in 2011, but thrown out of the party when the charges came to light.
Only four candidates stood in the constituency during the Holyrood election two years ago - one each from the SNP, Scottish Labour, Scottish Conservatives and Scottish Liberal Democrats.
Ms Kitson's Scottish Green Party is one of three new names to appear on the ballot paper for the by-election.
She told BBC Scotland: "It is about a voice for the people of Dunfermline and the surrounding villages and I think that we can offer that.
"So for me, success is if we can raise awareness of local issues, such as the school closure, and bring cross party support, and help to shift the ideas and visions forward, connecting to local people and reinspire people actually to engage with politics again."
Ukip are another new presence on the constituency's doorsteps. Alongside the party's traditional pro-Union, anti-EU message, candidate Peter Adams was keen to push his anti-wind farm stance to local voters.
'Wind turbines'
He said: "When you look around at the subsidies that are being paid to these wind turbines, we are not gaining the benefit as far as the country is concerned.
"They are being manufactured by foreign companies, they are brought in here, they are put together by some workers, but most of the time they are controlled by whoever is bringing them in to make sure it is done."
John Black, the leader of the Scottish Jacobite Party, is standing as an independent candidate.
He said: "There are lots of things wrong with society in Scotland. People have got to demand better. They have got to demand better customer service and they have got to demand better politicians".
Labour has picked Cara Hilton; Shirley-Anne Somerville is standing for the SNP; the Lib Dems' candidate is Susan Leslie and the Tory choice is James Reekie.