State-of-the-art respite centre officially opens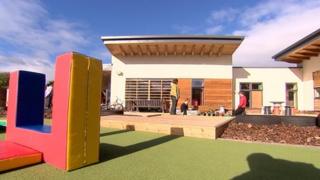 A disco jacuzzi bath and Hogwarts floating lights are new features at a state-of-the-art children's respite centre which has officially opened.
The £2.4m Seaview Centre, run by Edinburgh City Council, can accommodate up to 60 youngsters aged between five and 17 who have disabilities.
It provides regular short breaks with activities.
The centre was opened by Paul Godzik, Edinburgh's convener of the education, children and families committee.
There is also a wheelchair swing and tree house in the centre's garden.
The centre has been built on one level and was designed by the council's architects.
Mr Godzik said: "Respite care is an extremely important service and the new Seaview offers a wonderful setting to provide this. Both the young person and their families can benefit immensely from the facilities at the centre."
Carol Mentiplay, Seaview and family focus manager, said: "What makes the centre so special was all the work that went into taking on board the ideas from both young people and staff.
"I can't praise highly enough everyone involved in the design and construction process.
"Their enthusiasm rubbed off on everyone else and has resulted in a fantastic building."
The new complex has been built on the site of the city's old Lismore Primary School, replacing the former building in Joppa which was a girl's hostel.