Stolen crocodile sculpture returned to Edinburgh gardens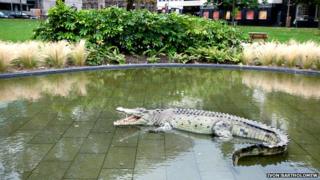 A 12ft fibreglass crocodile stolen from an Edinburgh square has been returned.
The sculpture was taken from the gardens in the centre of St Andrew Square between 14:00 on Thursday and 08:00 on Friday.
It is owned by the National Library of Scotland. It was returned on Saturday.
The crocodile was being used to promote the National Library of Scotland's current exhibition celebrating the African adventures of the explorer David Livingstone.
The life-size replica has been named Davy by staff.
180 kilos
Dr Darryl Mead, deputy national librarian of the National Library of Scotland, said: "We are delighted to see that Davy has been returned to his home in St Andrew Square pond.
"Thank you to all who searched, shared, liked and tweeted to help find our missing crocodile.
"The power of the people and the police closing in brought our mock croc home in the wee small hours of Saturday morning.
"He is a wee bit poorly after his 24 hour ordeal and we'll have his injuries seen to as soon as possible, but he is already back to business promoting our free David Livingstone exhibition."
The crocodile was filled with sand and weighed around 180 kilos to make it difficult to move him.
The sand was removed before he was taken.