Carbon innovation hub to open in Edinburgh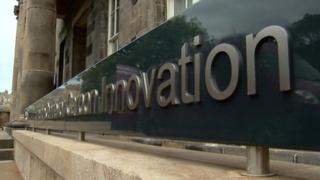 The world's first carbon innovation hub opens in Edinburgh later.
The Edinburgh Centre for Carbon Innovation (ECCI) cost £10.5m and took 19 months to refurbish.
It will bring together experts from business, academia and politics to work on ways to move to a low carbon future.
The centre will be officially opened by The Princess Royal, who is Edinburgh University's chancellor. It is housed in Edinburgh's historic Old High School in High School Yards.
The school's famous former pupils include Sir Walter Scott and Robert Dundas.
Some of the building work also took place on the site of the 13th Century Blackfriars Monastery, which led on-site archaeologists to discover nearly 100 skeletons, one of which was a suspected nobleman.
Features such as reusing "grey water" to flush toilets, solar controlled glazing in the windows to remove the need for air conditioning and under-floor heating will all contribute to a 30% saving in energy consumption compared with the building's former performance.
Andy Kerr, ECCI executive director, said: "ECCI is all about new ideas, collaboration, and knowledge sharing, so it's perfectly fitting that our new home is on a site that has been a focus for learning and teaching for around 800 years.
"The building has been designed specifically to help ECCI to achieve its goals and we hope that by bringing the right people together in this unique environment we will be able to solve the complex problems associated with climate change and the transition to a low carbon future."
Calum Duncan, lead architect, said: "In developing the proposals for ECCI we had to consider one of the key architectural or societal issues we are currently facing - how to manage the balancing act of reducing future carbon emissions with the need to reuse existing buildings being mindful of their historical importance, and at the same time to endeavour to create spaces which are characterful, vibrant, flexible and a pleasure to use."