Cub hope for Edinburgh Zoo as panda produces colostrum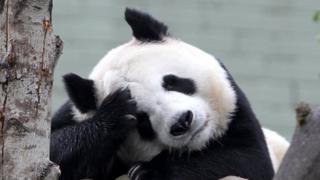 Edinburgh Zoo's female panda is continuing to show signs of pregnancy and has started to produce colostrum - a form of breast milk.
However, veterinary experts at the zoo said the signs were "not 100% indicative of pregnancy".
Staff had initially identified a two week window at the start of September where it had been expected that Tian Tian would deliver a cub or cubs.
Four weeks on and staff said the panda could still be expecting.
Simon Girling, head of veterinary services for the Royal Zoological Society of Scotland, said: "We know it seems hard to believe after all this time, but Tian Tian, our female giant panda, is still continuing to show signs of being in the late term of pregnancy.
"Her behaviour has mellowed out over the past few days, which is a very positive sign and she has also started to produce colostrum."
Pseudo-pregnancy
Colostrum is a high-calorie milk containing antibodies, which protects newborns from infectious diseases.
It is produced by mammals (including humans) in late pregnancy and for the first few days after birth, before normal milk starts.
However, Mr Girling said it could simply be sign of Tian Tian experiencing a pseudo-pregnancy.
Zookeepers have said they were confident Tian Tian did conceive, but hormone analysis has been unclear about whether she was still carrying a cub.
Meanwhile, Yang Guang, the zoo's male panda, has been unwell for a number of weeks.
Mr Girling said he may have a minor metabolic disorder.
"Since starting a regime of supplements he has shown significant improvement and his keepers are really happy with him," he said.
"We expect him to recover in a matter of weeks."