Taxi driver in Edinburgh attacked by two men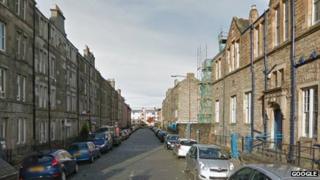 A taxi driver has been robbed in Edinburgh after being flagged down by a woman.
The 44-year-old man was driving his black cab on Springwell Place at about 02.50 when he was waved down by the woman, who with was with four men.
Two of the men then attacked the driver, who fled from his vehicle to a nearby petrol station forecourt.
One of the suspects stole a plastic money box, containing a two-figure sum, from the taxi before the group ran off.
The taxi driver received a minor injury to his shoulder.
Witness appeal
Police have appealed to anyone with information to come forward.
The suspects were described as male, white, in their late teens or early 20s.
One of the men was wearing grey and white striped tracksuit bottoms while the other was wearing a dark top with "Hollister California" written on it.
A Police Scotland spokesman said: "The victim was not seriously injured during the robbery but is understandably distressed at the theft of his money.
"Anyone who was in the area on Saturday morning and remembers seeing anything suspicious, or who has information that can help trace those responsible is asked to contact police immediately."