Doctor accused of blunders at the Royal Hospital for Sick Children in Edinburgh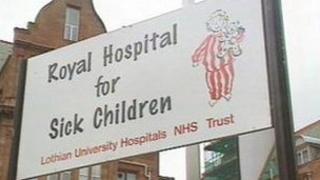 A 15-month-old baby was close to death after a series of blunders by a senior Edinburgh children's doctor, a tribunal has heard.
Dr Kiran Patwardhan was the consultant when the baby arrived at The Royal Hospital for Sick Children in Edinburgh with scolds to the face and neck.
He has admitted a string of mistakes relating to his treatment of three children at the hospital in 2011.
However, he denies a number of factual elements of the allegations.
The Medical Practitioners Tribunal Service was told Dr Patwardhan allowed a junior doctor to remove a breathing tube and made a series of mistakes when things went wrong.
It was told a colleague was called to take control of the situation and the child, known as Patient LS, was unharmed by the incident.
Dr Gale Pearson, a specialist in paediatric intensive care, told the tribunal: "This situation reads as if it is completely chaotic and were it not for the arrival of a doctor the child would have died, in my opinion.
"There are a number of common features to the three cases."
Concerns were raised by nurses when Dr Patwardhan bungled the changing of a breathing tube on a five-year-old patient in June 2011, the tribunal was told.
Dr Pearson said: "I think this incident is seriously below the expected standard."
Dr Patwardhan denies his re-intubation technique was "poor".
On 5 August 2011, Dr Patwardhan was transferring a two-week-old baby with heart problems from Edinburgh to Glasgow for an operation.
Minutes after they left the hospital in an ambulance the condition of patient NS began to deteriorate as the level of oxygen in the blood dropped rapidly.
'Rescued situation'
Dr Padwardhan admits coming to the wrong conclusion about the cause, a problem with the breathing tube, but denies he failed to adequately monitor or assess the infant.
The hearing was told a nurse was forced to take control of the situation and the patient's condition improved as a result.
Dr Patwardhan admits his preparation and approach to the change of Patient MA's breathing tube lacked adequate structure, but denies his technique to replace the tube was poor.
He admits further errors during the transfer of Patient NS to a hospital in Glasgow, but denies he failed to assess or monitor the condition and wrongly decided to return to Edinburgh.
He also admits several failures in his treatment of Patient LG, but disputes he failed to properly prepare for the procedure.
The hearing continues.