Greyfriars Bobby's nose jobs fails two days after restoration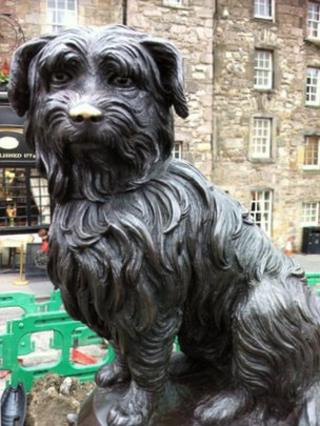 Efforts to stop people rubbing Greyfriars Bobby's nose in Edinburgh appear to have failed.
Restoration work was carried out on the statue of the world famous dog on Tuesday to turn his shiny nose back to its original black.
However, less than 48 hours later, his nose is already shining again.
The statue is popular with tourists, many of whom have taken to rubbing the Skye Terrier's nose for luck.
The wear to the statue had been highlighted in a Facebook campaign called Stop People Rubbing Greyfriars Bobby's Nose - It is not a Tradition.
Restoration specialists Powderhall Bronze was commissioned to clean, re-patinate and wax the affected area.
On Tuesday Edinburgh city council's culture convener, Councillor Richard Lewis, said: "Although Bobby has never been in any immediate danger, it was highlighted to us that the practice of rubbing his nose was starting to make him look a little scruffy.
"As one of the most famous - and most popular - statues in the capital, it's only right that he looks his best at all times.
"Once we became aware of the local concern it was clear that we had to act and I'm delighted we've been able to get specialists in to restore Greyfriars Bobby to his former glory."
The real Bobby was the pet of Edinburgh constable John Grey, who died of tuberculosis in 1858.
Bobby was said to have stayed close to where his master was buried.
The dog's period of mourning reputedly lasted until his own death in 1872.
However, a historian at Cardiff University believes he has uncovered evidence that the story is not true.
Dr Jan Bondeson said there were distinct differences in photos and paintings of Bobby which fell into two groups - those before 1867 and those after.