Leslie Andrew jailed for raping pregnant woman in Broxburn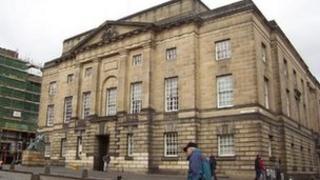 A man who admitted raping a pregnant woman in West Lothian has been jailed for six years.
The High Court in Edinburgh heard how 20 stone Leslie Andrew used his weight to pin his victim to a bed.
The 42-year-old later told another woman what he had done, saying he had to get sex somehow.
Andrew also admitted other assaults on his victim, repeatedly assaulting another woman in Glasgow and Ayrshire and molesting a 15-year-old girl.
The rape was committed at a house in Broxburn some time during 1993.
Sentencing Andrew, judge Lord Pentland told him his conduct had seriously affected his victims, particularly the second woman who had suffered "devastating violence" when she was pushed around, thrown along a corridor and half throttled.
"She experienced depression, violence and fear and a complete breakdown in her self esteem and ability to function normally", Lord Pentland said.
"You are a violent and aggressive bully with marked domineering tendencies."
The court heard that the woman found out about the earlier rape - but Andrew, from Kilwinning in Ayrshire, laughed it off saying he had to get sex somehow.
Advocate depute Bill McVicar, prosecuting, said: "He even gave some detail about how it happened, saying she had not cried out but that he knew she did not want to have sex."
The prosecutor also told how Andrew sneaked into the bedroom of the teenage girl after dark.
She pretended to be asleep as he pulled the bedclothes down to her waist and began to try to pull down her vest to expose her breasts.
The girl kept silent for months, scared she would not be believed. But when she eventually told her story in September last year she sparked a police investigation which led to the other charges.
Defence advocate Frances Connor said first offender Andrew now recognised that his "short fuse" was unnatural and was seeking help.
Lord Pentland told Andrew: "It is clear you have serious anger management difficulties. I note that you now say you recognise this."
The judge said he also took into account the effect of a difficult and violent up-bringing on Andrew's personality.