Former MSP Walker's bid to leave jail refused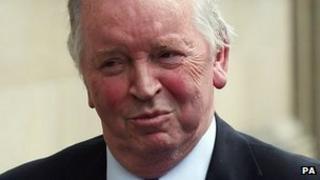 Former MSP Bill Walker has failed in a bid to be freed from prison pending his appeal against convictions for domestic abuse.
Lawyers acting for the 71 year old had asked a judge at the High Court in Edinburgh to temporarily release him.
Last month he was sentenced to a year in jail for assaults on three ex wives and a step-daughter.
However, Walker will remain in Edinburgh's Saughton Prison after Lord Armstrong refused to grant his request.
Walker, of Alloa in Clackmannanshire, was convicted of 23 charges of domestic abuse and one charge of breach of the peace at Edinburgh Sheriff Court.
He was jailed after Sheriff Kathrine Mackie heard that he could not express any remorse towards victims Maureen Traquair, Anne Gruber, Diana Walker and step daughter Anne Louise Paterson.
He plans to appeal against these convictions at a hearing which is yet to be arranged.
Following his conviction, Walker had initially refused to resign his seat representing Dunfermline in the Scottish Parliament.
After pressure from campaigners and MSPs, he later announced he was going.
Walker had been an SNP MSP, but he was ejected from the party when the allegations surfaced.
The by-election to fill Walker's Dunfermline seat will be held on Thursday 24 October.