Cruise ship hit by fourth vomiting outbreak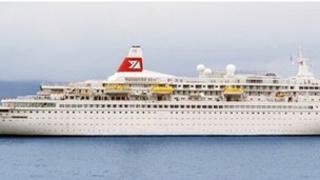 A cruise ship which docked in Fife has suffered a fourth norovirus outbreak.
During the most recent cruise, 131 of the 737 guests on board the Fred Olsen liner The Black Watch suffered gastroenteritis-type symptoms.
A total of 302 cases were reported on the ship's previous three trips.
Fred Olsen said the vessel had been deep-cleaned, and had been cleared to sail after an inspection by local health authorities and the Maritime and Coastguard Agency.
NHS Fife said none of the passengers disembarking in Rosyth had suffered serious illness.
External contractors will carry out a further deep cleaning on the ship before its next cruise on Thursday, which sets sail from Dover.
A spokesman for Fred Olsen said: "It is frustrating that, even with the extra preventative and containment measures that were put in place, a number of guests on board this Iberian cruise have suffered from this illness, which is common in hospitals, schools, hotels, cruise ships and other areas where people are in close proximity.
"Most people do not report incidences, but on a cruise ship - where movement is restricted - cases are highlighted."
He added: "It is also notable that in some cruise terminals in regional UK departure ports, such as Rosyth, there is no ability to segregate disembarking and embarking guests, which increases the possibility of cross-contamination, no matter how thoroughly the ship is deep-cleaned and fumigated."
The company said it had sent a letter to guests booked onto its next cruise informing them of the gastric illness outbreak on the previous sailing.
It added: "The health, safety and well-being of all our guests and crew is paramount, and we believe that our systems for preventing the spread of illness on board our ships are amongst the best within the industry."
Dr Edward Coyle, NHS Fife Director of Public Health, said it was not unusual to have further norovirus outbreaks on vessels that had previously been affected.
"There are numerous hypotheses for this, including the introduction of new infected passengers, or crew remaining on board incubating the infection," he said.
He said environmental health officers from Fife Council had liaised with Fred Olsen and were satisfied that the ship had applied the company's own prevention and control plan.
On Tuesday, Fred Olsen confirmed a similar outbreak on its liner Boudicca, which left Belfast last week.
Symptoms of the illness include a sudden onset of vomiting and/or diarrhoea; some people may have a temperature, headache and stomach cramps. The sickness usually lasts one or two days.
The Fred Olsen spokesman said it was company policy to provide those guests affected by gastric illness on board its ships with a discount voucher for a future cruise, as a gesture of goodwill.