Taliban victim Malala Yousafzai to speak in Scotland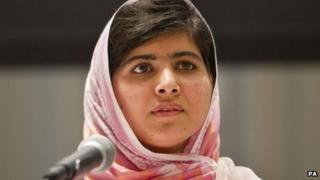 A Pakistani teenager who survived an assassination attempt by the Taliban last year is to speak in Scotland.
Malala Yousafzai, 16, was shot in the head after her outspoken views on education and women's rights brought her into conflict with the Taliban.
Addressing the first meeting of the Global Citizenship Commission, she will urge the international community to uphold human rights around the world.
The event is being held at Edinburgh University on 19 October.
The commission is a body of global leaders representing politics, religious institutions, law and philanthropy.
Led by former prime minister Gordon Brown, UN special envoy for global education and MP for Kirkcaldy and Cowdenbeath, it will discuss global developments since the Universal Declaration of Human Rights was passed in 1948.
Malala will be guest of honour at the event which is supported by New York University and Carnegie UK Trust.
Voted one of the world's 100 most influential people, she began blogging for the BBC in 2009 about her life in Pakistan's Swat Valley region and her desire to attend school safely and freely.
Her increasing profile in the global media and her campaigns for universal education and women's rights led to her being shot in the head on a school bus by Taliban gunmen on her way home from school in October last year.
She was flown to Birmingham for treatment and now lives in the city.
Martyn Evans, chief executive of Carnegie UK Trust, said: "Malala is a person that the world takes notice of. She has shown incredible bravery in her drive to speak out for the rights of women and the universal right to education.
"This event is all about listening to the challenges of the modern world and I can't think of a better ambassador or teacher than Malala."
'Global significance'
Mr Brown said: "The debate around ethics and the protection of human rights is as important today as it was in 1948 when the Universal Declaration was signed.
"This commission brings together global leaders in the field of ethics and citizenship, and crucially allows members of the public to join the debate.
"After all, it is their rights of global citizens that this historic document enshrines."
New York University president John Sexton said: "NYU is excited to be working closely with such an outstanding and learned leader in Mr Brown, and is proud to provide the support necessary to convene this talented and experienced group of commissioners from across the world.
"In many ways, the work of the commission mirrors NYU's concept of the Global Network University, which is focused on creating a safe academic space for students from myriad backgrounds to come together to learn from one another."
Edinburgh University principal Professor Sir Timothy O'Shea said: "How we understand and promote human rights is a matter of global significance and it is a privilege to host the first public hearing of the commission."